GWGWG PARTNERS WITH VISIONARY ORGANIZATIONS, NONPROFITS, AND CHARITIES. WE HAVE A TRUSTED BOOK OF UPCOMING PROJECTS THAT NEED A HAND.
WITH THE WELL BEING OF OUR COUNTRY AT SUCH GREAT RISK, WE ALL HAVE A SOCIAL RESPONSIBILITY TO ACT NOW + SHOW OUR COMPASSION!
PLEASE BROWSE OUR LIST OF PARTNERS BELOW TO SEE HOW THEY ARE HELPING THOSE IN NEED. YOU CAN DONATE VIA THE LINKS PROVIDED. OUR HOPE IS TO ALLEVIATE ANY WORRIES YOU HAVE AROUND GIVING BACK DURING DIFFICULT TIMES BY MAKING IT EASY AND MEANINGFUL. THANK YOU FOR YOUR GRACIOUSNESS. THANK YOU FOR BEING A GIRL WITH GOALS WHO GIVES.
See below for all
giving opportunities.
---
PROUDLY PARTNERING WITH —
CHANGE FOR KIDS
WHO THEY ARE: CHANGE FOR KIDS (CFK) IS A NEW YORK CITY BASED YOUTH DEVELOPMENT ORGANIZATION THAT CREATES OPPORTUNITIES FOR KIDS SO THEY CAN OVERCOME INEQUITY. THROUGH PARTNERSHIPS WITH PUBLIC ELEMENTARY SCHOOLS ACROSS ALL FIVE BOROUGHS OF NYC, CFK HELPS 5,000+ YOUNG PEOPLE PER YEAR DEVELOP THE TOOLS NECESSARY TO REALIZE THEIR POTENTIAL AND REIMAGINE POSSIBILITIES FOR THEIR FUTURES.
WHAT YOU CAN DO: IN RESPONSE TO THE PANDEMIC, CFK WAS ONE OF THE FIRST YOUTH ORGANIZATIONS TO LAUNCH A FULLY VIRTUAL PLATFORM TO ENSURE CONTINUITY OF SERVICES AND HIGH QUALITY PROGRAMMING FOR THE KIDS THEY SERVE. THEIR VIRTUAL PROGRAM PROVIDES ACTIVITIES AND LESSONS, PLUS OVER 30 HOURS PER WEEK OF LIVE, INTERACTIVE PROGRAMS RANGING FROM ARTS ENRICHMENT TO VIRTUAL AFTER SCHOOL. THEIR PROGRAM IS OPEN TO THE PUBLIC AND FREE! SUPPORT CFK'S #CHANGETOGETHER CAMPAIGN TO ENSURE KIDS' SOCIAL-EMOTIONAL NEEDS CONTINUE TO BE MET DURING SOCIAL DISTANCING. JOIN CFK'S COMMUNITY OF CHANGEMAKERS THROUGH VIRTUAL VOLUNTEERING OPPORTUNITIES LIKE READING A CHILDREN'S STORY LIVE ON INSTAGRAM, FILMING YOUR SPECIAL TALENT OR CREATING AN ACTIVITY FOR KIDS. STAY TUNED FOR MORE VIRTUAL MENTORING OPPORTUNITIES.SUPPORT CFKVOLUNTEER WITH CFK
FOOD TO EAT
WHO THEY ARE: FOOD TO EAT PARTNERS WITH IMMIGRANT, WOMEN, AND MINORITY-OWNED RESTAURANTS IN NYC, BY BOOKING CATERING JOBS FOR THEM AT CORPORATE OFFICES LIKE WARBY PARKER, THE SKIMM, AND MICROSOFT. WITH EVERYONE WORKING FROM HOME DURING THIS PANDEMIC, THEIR BUSINESS – AND BY EXTENSION, THEIR RESTAURANT PARTNERS – ARE TAKING A HUGE HIT.
WHAT YOU CAN DO: PLACE ORDERS THROUGH OUR PARTNERS OR FOR PEOPLE TO DONATE DIRECTLY TO VIA IFUNDWOMEN. IN RETURN, WE'LL PLACE ORDERS WITH OUR RESTAURANT PARTNERS AND DONATE TO SHELTERS AND FOOD BANKS IN NYC — THE INSTITUTIONS SERVING THE MOST VULNERABLE FOLKS DURING THIS UNPRECEDENTED TIME.SUPPORT FOOD TO EATVISIT THEIR WEBSITE
COVENANT HOUSE NEW YORK
WHO THEY ARE: FOR MORE THAN FOUR DECADES, COVENANT HOUSE HAS HELPED TRANSFORM AND SAVE THE LIVES OF MORE THAN A MILLION HOMELESS, RUNAWAY AND TRAFFICKED YOUNG PEOPLE. WE OFFER HOUSING AND SUPPORT SERVICES TO YOUNG PEOPLE IN NEED – CURRENTLY REACHING 74,000 YOUTH EVERY YEAR.
WHAT YOU CAN DO: ENSURE THAT OUR SUPPORTIVE HOUSING PROGRAMS HAVE THESE ADDITIONAL NECESSARY RESOURCES AVAILABLE. WE FEEL IT'S VITAL THAT WE SHOW OUR YOUTH A CONTINUED SENSE OF COMMUNITY DURING THIS TIME. LET'S PLAY AN INSTRUMENTAL ROLE IN THE LIVES OF NEW YORK YOUTH BY SUPPORTING COVENANT HOUSES AMAZON WISH LIST BELOW.
COVENANT HOUSE IS ALSO LOOKING FOR SNACKS + GAMES FOR THEIR YOUTH, PLEASE SEND US AN EMAIL DIRECTLY TO TEAM@GIRLSWITHGOALSWHOGIVE.COM IF YOU HAVE ACCESS TO ANY OF THESE ITEMS SO WE CAN PUT YOU IN TOUCH WITH THE COVENANT HOUSE.SUPPORT COVENANT HOUSEVISIT THEIR WEBSITE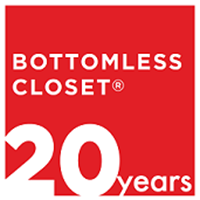 BOTTOMLESS CLOSET NYC
WHO THEY ARE: THIS ORGANIZATION EMPOWERS LOW-INCOME NEW YORK CITY WOMEN TO ENTER THE WORKFORCE AND ACHIEVE SUCCESS. THEY PURSUE THEIR MISSION THROUGH THE PROVISION OF PROFESSIONAL CLOTHING, RESUME HELP AND INTERVIEW COACHING. 50% OF THE CLIENTS AT BOTTOMLESS CLOSET ARE HOMELESS. MANY MORE ARE SURVIVORS OF DOMESTIC VIOLENCE OR SEXUAL ABUSE, AND A SIGNIFICANT NUMBER OF CLIENTS ARE TRANSITIONING FROM PRISON, SUBSTANCE ABUSE PROGRAMS OR EVEN THE FOSTER CARE SYSTEM. 49% OF THEIR CLIENTS HAVE CHILDREN AND THE MAJORITY ARE SINGLE MOTHERS.
WHAT YOU CAN DO: BOTTOMLESS CLOSET UNFORTUNATELY HAD TO SUSPEND ALL FACE TO FACE CLIENT SERVICES. THEY ARE PIVOTING TO AN ONLINE LEARNING MODEL FOR CLIENTS IN THE INTERIM AND THEIR PROGRAM DIRECTOR IS WORKING TIRELESSLY TO SEE WHAT PROGRAMS CAN BE MOVED ONLINE AND FINDING PLATFORMS TO SUPPORT THIS.
THE LAPTOP FUNDING THAT GWGWG HAS SUPPORTED HAS BEEN SUPER HELPFUL. THEIR ENTIRE TEAM IS NOW ABLE TO WORK FROM HOME. THE BIGGEST SUPPORT THEY NEED IS FINANCIAL DONATIONS OF ALL SIZES OR IF ANYONE IN OUR NETWORK HAS EXPERTISE ON ONLINE LEARNING, AVAILABLE WEBINAR CONTENT OR ACCESS TO ANY ONLINE LEARNING PLATFORMS (FOR FREE) THAT WOULD BE AMAZING. PLEASE EMAIL US DIRECTLY IF YOU HAVE THE ABILITY TO SUPPORT BOTTOMLESS CLOSET'S ONLINE LEARNING EFFORTS.SUPPORT BOTTOMLESS CLOSETVISIT THEIR WEBSITE
BERGEN FAMILY CENTER
WHO THEY ARE: BFC STRENGTHENS COMMUNITIES BY PROVIDING SERVICES TO INDIVIDUALS, FAMILIES AND CHILDREN THAT ENHANCE THEIR ABILITY TO FUNCTION INDEPENDENTLY, MANAGE CHALLENGES AND IMPROVE THE QUALITY OF THEIR LIVES. BFC IS A RECOGNIZED LEADER IN PROVIDING QUALITY AND COMPREHENSIVE HUMAN SERVICES TO PEOPLE OF ALL AGES.
WHAT YOU CAN DO: BFC HAS TEMPORARILY CLOSED THEIR BFC ARMORY STREET AND GRAND AVENUE FACILITIES DUE TO THE CURRENT HEALTH CRISIS TO KEEP THEIR CLIENTS SAFE. AS A RESULT, CLIENTS NOW FACE ADDITIONAL NEEDS FOR FOOD AND DAILY NECESSITIES THAT HAD BEEN PROVIDED AT OUR LOCATIONS. TO MEET THOSE ADDITIONAL NEEDS WE'VE ESTABLISHED A NEW RELIEF FUND. YOUR DONATION GOES DIRECTLY TO FAMILIES WHO NEED NECESSITIES LIKE DAILY MEALS, BABY FORMULA, DIAPERS AND CLEANING SUPPLIES. CRITICAL ITEMS TO KEEP THEM HEALTHY.
THROUGH THE CRISIS, WE'VE BEEN SUPPORTING LOCAL BUSINESSES. THAT'S WHY WE'RE WORKING WITH OUR LOCAL SHOPRITE AND WITH LOCAL RESTAURANTS TO HELP OUR CLIENTS RECEIVE MEALS AND ESSENTIAL ITEMS. YOUR DONATION BUYS GIFT CARDS FOR FAMILIES AND HELPS TO SUPPORT THE LOCAL ECONOMY AS WELL.SUPPORT THE BFCVISIT THEIR WEBSITE
---
SUSAN G. KOMEN
WHAT WAS STARTED WITH $200 AND A SHOEBOX FULL OF POTENTIAL DONOR NAMES HAS NOW GROWN INTO THE WORLD'S LARGEST NONPROFIT SOURCE OF FUNDING FOR THE FIGHT AGAINST BREAST CANCER. TO DATE. INVESTING MORE THAN $2.9 BILLION IN GROUNDBREAKING RESEARCH, COMMUNITY HEALTH OUTREACH, ADVOCACY AND PROGRAMS IN MORE THAN 60 COUNTRIES. SUSAN G. KOMEN EFFORTS HELPED REDUCE DEATHS FROM BREAST CANCER BY 40 PERCENT BETWEEN 1989-2016.VISIT THEIR WEBSITE
NICU AT NY PRESBYTERIAN HOSPITAL
NEW YORK PRESBYTERIAN HAS A LONG TRADITION OF PROVIDING EXCEPTIONAL OBSTETRICS CARE TO WOMEN IN NEW YORK CITY. SINCE THE LATE 19TH CENTURY, OUR MATERNITY FACILITIES HAVE HELD A REPUTATION FOR LOW INFANT MORTALITY RATES, AND GROUNDBREAKING DEVELOPMENTS IN THE ADVANCEMENT OF WOMEN'S AND CHILDREN'S HEALTH — INCLUDING DEVELOPING AMNIOCENTESIS TEST TO DETERMINE CERTAIN GENETIC DISORDERS IN UTERO AND THE APGAR SCORE, FIVE CRITERIA USED TO EVALUATE THE HEALTH OF NEWBORNS.VISIT THEIR WEBSITE
---
PARTNER WITH US
WE HELP BRANDS REALIZE THEIR SOCIAL MISSIONS BY CONNECTING THEM TO OUR EXTENSIVE NETWORK OF NONPROFITS AND COMMUNITY PROJECTS. WE ARE PASSIONATE ABOUT PARTNERING WITH EMERGING AND ESTABLISHED FEMALE CENTRIC AND WOMEN OWNED COMPANIES. OUR NETWORKING EVENTS FOSTER FRIENDSHIP AND BUSINESS OPPORTUNITIES WHILE SUPPORTING THE ADVANCEMENT OF WOMEN EVERYWHERE.PARTNER WITH GWGWG
---
GWGWG INSIDERS
CONNECT MORE BY GETTING ACCESS TO OUR IN PERSON EVENTS AND ONLINE EXPERIENCES. GET READY TO MEET WITH OUR LIKE-MINDED COMMUNITY OF WOMEN.
GROW MORE WITH INSIGHT INTO OUR BEST NETWORKING TIPS TO HELP YOU UNCOVER OPPORTUNITIES, ONE COFFEE OR COCKTAIL AT A TIME.
GIVE MORE AND MAKE A DIFFERENCE WITH US AS WE HIGHLIGHT INSPIRED WAYS TO GIVE BACK TO OUR CHARITABLE PARTNERS IN A BIG WAY. WE OFFER MUCH MORE THAN A "DONATE NOW" BUTTON.